Dear Roasters Guild Members,
Listed below are the Roasters Guild Executive Council Nominees for the 2013 election cycle. Each position on the council serves a two-year term. Please review each nominee profile carefully and prepare to vote. There are four (4) open seats on the Executive Council for 2013.
• Wednesday, February 13, 2013: Voting opens
• Monday, March 4, 2013: Online Election closes at 5:00 PM
• Monday, March 11, 2013: Election results announced
For more information on the election process, please review the Roasters Guild bylaws here:
http://roastersguild.org/?p=about&sub=handbook
.
Nominee Profiles
Colleen Anunu, Gimme! Coffee
Colleen is the cupper, head roaster and coffee buyer for New York based Gimme! Coffee, Roast Magazine's 2013 Macro Roaster of the Year. She is a licensed Q Grader and Q Grader Instructor Apprentice for the Coffee Quality Institute. She serves on multiple SCAA committees, has been part of the SCAA and NCA organizational assessment teams, and volunteers for coffee organizations worldwide. Her mission on the Lectures subcommittee is to bring important high level dialog to the free lecture format, including various Relationship Coffee panels, and the 2012 "Variety Development and The Future of Quality" panel. She believes in a strengthened supply chain, and YOU!
Bob Arceneaux, Orleans Coffee Exchange - INCUMBENT
Bob is the co-owner and green coffee buyer for Orleans Coffee Exchange, and has been in the coffee business for over 20 years. He has been on the EC for the past two years, and also served on the RGEC from 2006-2008. Bob has volunteered for SCAA Exposition in cupping labs and roasting labs, as well as assisting staff at Roasters Guild Retreats. He feels it's important that the RG continue to provide meaningful and educational classes to guild members. Bob chairs the membership committee currently and wishes to help facilitate growth for the guild. Bob is happy to see how RG is providing meaningful content and credible educational opportunities for its members.
Nolan Dutton, Ozo Coffee Roasters
Nolan Dutton is the head roaster and green buyer for Ozo Coffee Roasters and is very active in the Roasters Guild. He currently teaches classes at Expo and RG Retreat as much as he can, and is active in the RG Professional Development Certification Panel. Already working with the RG and the SCAA, Nolan has a constant pursuit of knowledge and the sharing of ideas as a driving force behind everything he does. Believing we are here for community and growth, he roasts to highlight the hard work of the farmers who produce the coffee we all share and love.
Joe Marrocco, Café Imports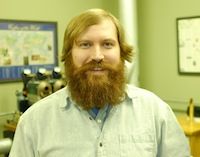 I am honored to be nominated for this position. My personal goals within Specialty Coffee have never rested simply with the success of producing a quality product. What drives me is impacting those around me in a positive way, whether through a coffee product, a training, a coffee competition, or simply a conversation. I have a lot of experience in this industry: roasting, cafe', cupping, teaching classes, competing, the list goes on. However, my most meaningful experiences have simply been time spent with real people. I hope to enhance that kind of connectivity within the Roaster's Guild and from it to the larger coffee community.
Sevan Istanboulian, Mystique Coffee - INCUMBENT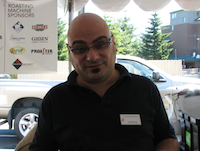 Sevan Istanboulian's days as a coffee roaster started in 1995 and he has been an active member of the Roasters Guild since the early days of its inception. Sevan is currently serving on the Education Committee of the Executive Council and has played a pivotal role in the development of some of the critical educational courses for the RG certification program. He is known to most of you as the guardian of the roasting tent during Roasters Guild Retreats.