Voting is now open for the 2014 Roasters Guild Executive Council Elections. You must be a current Roasters Guild member to vote. We appreciate your participation in the selection process for members of the Roasters Guild Executive Council. Every vote is important, so be sure to cast your ballot before March 31, 2014.
To cast your vote, please click here: http://bit.ly/RGEC_Ballot_2014
Election Timeline:
• Monday, March 31, 2014: Election closes at 5:00pm (PST)
• Monday, April 7, 2014: Election results announced and posted to RG website
For more information on the election process, please review the Roasters Guild bylaws here:
http://roastersguild.org/?p=about&sub=handbook
.
Listed below are the nominees for the 2014 election cycle. Each position on the council serves a two-year term. Please review each nominee profile carefully and prepare to vote. There are four (4) open seats on the Executive Council for 2014.
Nominee Profiles
Bill Anstedt, Caribou Coffee
Bill's introduction into coffee was almost accidental. Especially, since before working at Caribou, Bill was not much of a coffee drinker. What began just as a routine employment search has evolved into a lifelong passion for coffee, and all of its nuances.
In 1997 Bill began working with Caribou in the packaging department. His inquisitive nature and interest in every part of the process developing the final product was noticed and rewarded with his first roasting team position, green coffee blending. Caribou did 90% of their blending by hand at the time, and almost every bag weighed more than Bill. Ok they still weigh more than Bill.
Bill's continued dedication to product quality has led him to his current role as a Roast Technician. Today the majority of Bill's responsibilities are centered on roasting and product QC.
Emilio Lopez Diaz, Cuatro M Coffees
Emilio is a sixth generation coffee producer in El Salvador. He is experienced as a grower, managing two plantations, Ayutepeque and El Manzano. He is a miller/exporter and roaster, founding Cuatro M, Single Origin Coffees and Topeca Coffee in 2001. He has been a member of the Roasters Guild since 2002, attending eleven of thirteen RG Retreats, and a current member of the Executive Council. He is heavily involved in researching the variables of coffee production, and their effects on the final cup, titled the El Manzano Project; of which he has presented on at previous RG Retreats. He is eager to continue these efforts, to better contribute to the roasting and coffee community.
Nolan Dutton, Ozo Coffee Roasters
Nolan Dutton is the head roaster and green buyer for Ozo Coffee Roasters and is currently serving on the Roasters Guild Executive Council. He teaches classes at Expo and RG Retreat as much as he can, and is active on the RG Professional Development Certification Committee. Already working with the RG and the SCAA, Nolan has a constant pursuit of knowledge and the sharing of ideas as a driving force behind everything he does. Believing we are here for community and growth, he roasts to highlight the hard work of the farmers who produce the coffee we all share and love.
Phil Maloney, Peet's Coffee & Tea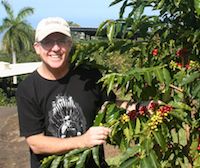 Phil began his career in coffee in 1989, when he joined S&W Fine Foods as production manager in the coffee plant in San Francisco. He learned the business from the ground up, lumping coffee sacks, opening bags, roasting on a JB 21R continuous roaster, and running packaging machines. Over the course of the next thirteen years, he worked as QC manager and plant manager, and eventually advanced to director of coffee operations and green coffee buyer.
In 2002, Phil joined the Ecom Coffee Group as a coffee trader with Atlantic Specialty Coffee in the Bay Area. In 2005, he was promoted to vice president and was instrumental in leading the company to become one of the top importers of specialty coffee in the country. In the process, he worked closely with coffee producers and exporters to source top quality coffees from around the world.
In 2012, Phil joined Peet's Coffee & Tea as director of coffee purchasing. The position calls on him to guard the quality of coffee at Peet's and preserve the company's rich history of strong origin relationships. He begins his day in the cupping room, selecting the best coffees from around the world, and spends a part of each day planning ahead to secure the world's best coffees months before harvest.
Phil served on the board of the Pacific Coast Coffee Association for six years, where he was president from 2005-2006. He has participated in many cupping competitions over the years, from Bolivia to Kona. He learned to sample roast on a Jabez Burns two-barrel roaster and once rebuilt a five-barrel Jabez-Burns roaster with the help of a retired Buddhist monk. He's as passionate for the San Francisco Giants as he is for the perfect roast.
Vote Now! Official Election Ballot: http://bit.ly/RGEC_Ballot_2014